When You Gotta Go to the Bathroom in Your Clarkston Home, Enjoy the Experience with New Bathroom Countertops from Extreme Granite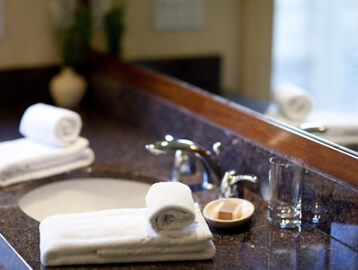 Purchasing granite from Extreme Granite and Marble and then letting us fabricate and install your new countertops in your bathroom means:
You will enjoy a professionally fabricated counter top that you cannot get anywhere else
You will work with a company that takes pride in each and every job
You will find the unique slab of granite that's right for your home or business bathroom
Your chosen granite will be fabricated in our state-of-the-art facility with the latest tools and technology
Your new bathroom granite countertop(s) will be installed quickly and professionally
Your satisfaction is guaranteed
You'll soon become a return customer
Special requests are welcome
You'll enjoy a seamless process from start to finish
A Great Choice, for a Variety of Bathrooms
In your Clarkston home your bathroom might be small. That's just what we like to hear. Does your Clarkston home have a large and luxurious bath in it, with a long counter and double sinks that you want changed and customized? Your Clarkston MI business bathrooms are overdue for a makeover. You've researched and know that granite is great for public restrooms. We love all of those scenarios. Contact us today because we can handle all of your bathroom countertop needs and we can even help with the design. From simple vanity sinks to detailed mosaics, we do it all!  And you'll have at your disposal our design services working with a group of designers that know how to make a bathroom space grab the attention of family, friends and employees. Granite is one of the best choices for your bathroom countertops because:
Granite adds value to your home or business
It's a lasting and timeless stone
Maintains its beauty for many years
It is bacteria-resistant; an added bonus, especially in public bathrooms
Studies showed that granite ranked firstin cleanability. After washing and rinsing, the granite tops provided the greatest reduction in bacteria counts of all the countertop materials tested
It is nearly impossible to scratch
It's available in tiles or slabs
It can also be cut into any design orpattern, round or square
Get a Free In-Home Estimate
It's great that you're a Clarkton resident, because our showroom is located nearby in Troy, MI and you can come and see for yourself why we're the best and really the only great choice for all your bathroom granite countertop solutions.  Chances are you're living close by to someone who has already had us install granite in their bathroom.  We have lots of satisfied Clarkston homeowners; and we want you to be one, too. Your family and friends will spend extra time in your luxurious bathroom. Contact us today.